Ladakh Ride Day 1 – Kolkata to Varanasi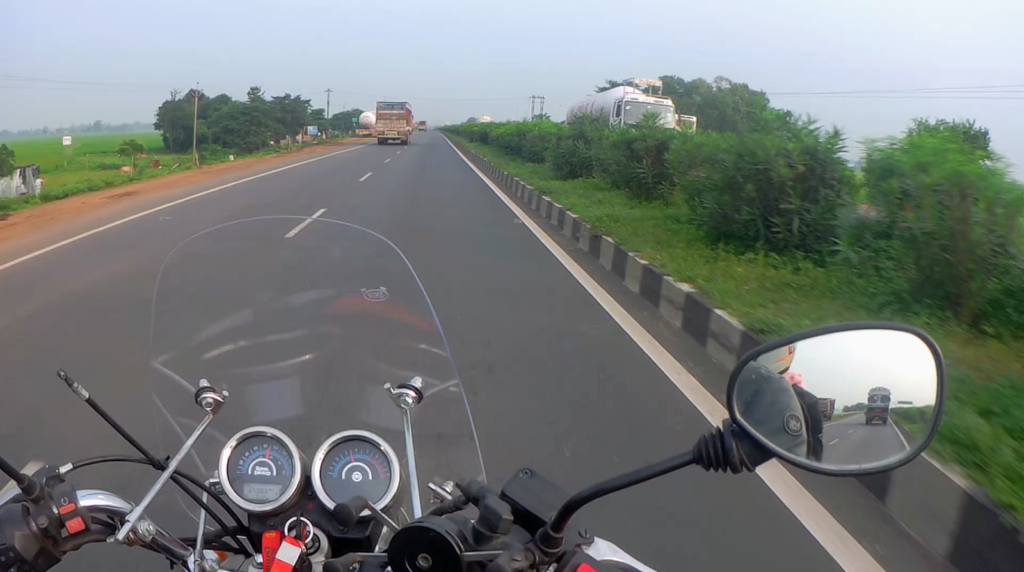 Finally, D-day had come i.e. 15th September 2018. All set to start our epic ride from Kolkata to Leh.
We woke up around 03:30 AM, got ready, and cold started our motorcycle A.K.A beast (Royal Enfield Thunderbird 350), tied our bags (saddlebags, tank bag, and one backpack). Finally, we bye our parents and started at around 05:10 AM. It was dark then and traffic was also less. In 15 KMs, we entered NH2, Awesome!! 
It feels so great to be on the highway after months and this time we are going to achieve our 3 years old dream to conquer "Ladakh", a place known as "Bikers Paradise". We took a halt for a tea break for 15 minutes and started to chase distance again.
Our plan was to reach Allahabad by the 10:00 PM, although we ended doing Kolkata to Varanasi. While crossing the Panagarh bypass, the rain started heavily. We don't even get a chance to wear our rain gear. Few kilometers before Durgapur we stopped and took a shed under a flyover, this costs us more than an hour, what! It was thundering heavily and it feels pretty close so we don't want to take the risk.
Till the time we wait here, let me tell you our experience in Panagarh bypass. It was a treat to ride on this bypass, butter-smooth road and that to avoid the single-lane heavily congested road of Panagarh.  
Few hours and we crossed West Bengal maintaining a decent speed. Just after crossing the border we stopped at an HP petrol pump and used the washroom. Weather was so pleasant in Jharkhand. Few patches in the highway were not properly leveled, I had this experience during Nainital Trip 2016, so rode carefully and confidently. we did not have food for long, so we stopped in a small Dhaba, had Roti, Egg Tarka, and Egg Bhurji. Oh, tea also.
We saddled again and munching kilometers; finally, in a speed breaker, I observed my rear brake lever is not returning to its original position after disengaging. Every time I had to pull it off with my foot. On the highway, it was not a big issue because we can manage but in city traffic or congested area, it can't be. So, we found a mechanic and went to him. He told us that the entire brake caliper needs replacement. OMG! really, where can I find a store to have RE Thunderbird rear disc caliper set.
Somehow, we decided to visit the nearest Royal Enfield in Bodh Gaya, but later we went straight to Aurangabad. Why to Aurangabad, not Bodh Gaya? Being a bigger city, Aurangabad Royal Enfield may have the required part if it really needs to be replaced.
My luck, the mechanic of the RE service center was very helpful, he asked me to wait for a few minutes and it's done. The free-play nut was jammed and they cost me nothing. In return, they were asking our plans, destinations, and all. We again stopped after some 30-40 KM to have Tea. by then, it was started to sunset. In an hour or so we entered Uttar Pradesh, the third state on the very first day.
We started experiencing diversions and bad roads a few kilometers before entering UP. In pitch dark, a pothole-filled highway is not less than a nightmare. We reached Varanasi around 09:15 PM and decided to take a halt for the day. We could reach Allahabad in another 2-3 hour but the road condition, oncoming traffic, and diversions made me conclude for the day.
We stayed just beside Palki hotel (I can't recall the Hotel name while writing, though I will update the name later). The tariff was Rs 900/- for Air cooler room, the parking area was big, not covered. We had one of the spiciest biriyanis ever. Yeah, I taste Biriyani wherever I go. Putting electronics on the charge we went to sleep, setting an alarm for the next day at 5 AM.
We woke up around 05:00 AM, freshen up and cold started our motorcycle. The initial plan was to stretch till Delhi for that day which...
Being a remote place, a lot of preparation needed before Leh Ladakh Tour, be it mentally or physically. Don't forget the weather in the Ladakh region is extreme and most of us are not accustomed to it.
So, be prepared and everything in your Leh Ladakh tour will definitely go well. You may also check out below generic posts to make your Leh Ladakh trip successful and memorable. I am sure you will love it.
Although, we are in a process to queue up the next post shortly. Till then subscribe to Rider Escaped Newsletter and connect with us on Social platforms to get future updates quicker.
Don't forget to check out our complete Ladakh Ride Blog series.
Certainly, if you loved this post, share this with your buddies. Also, if I missed out on anything do let me know in the comment section. I will include it in the post.
Thanks! Have a great day ahead.