Biswa Bangla Gate | Kolkata City Guide
Biswa Bangla Gate, also known as Kolkata Gate is the latest crown of Kolkata. Few prefer to call it the Welcome Gate. There are two arcs of 55 meters height which holds a viewing Gallery ring above 25 meters from the ground. The ring spans nearly 220 meters and provides an aerial or bird's eye view of the entire locality. Current Chief Minister of West Bengal, Mamata Banerjee inaugurated this Gate on 31st January 2019. HIDCO (Housing Infrastructure Development Corporation) started the construction on 6th March 2017 almost two years before. According to design and construction, It has a capacity of 150+ visitors at a time but currently restricted to 50 visitors at an instance. Surprisingly, this gate costed around INR 25 crores.
Quick Fact about Biswa Bangla Gate
There are two lifts of approx 7-8 people capacity available to minimize the waiting time. You can start seeing the height gain by the glass wall of the lifts. Once you reach the floor, you will see a souvenir shop, selling key chains, wall clocks, paintings, etc. There are paintings after the culture, art and great personalities of West Bengal in walls throughout the gallery. Most of the observation gallery has a restaurant setup which starts functioning after 7:00 PM to 10:00 PM. Whereas a small food joint, Cafe Ekante remains open in the daytime. You can get puffs, shakes, ice cream, and beverages, etc (card payment also accepted). You can seat anywhere you want and enjoy the busy city roads beneath. This rounded gallery gives a top view of the Rajarhat and Newtown area. Certainly, you can do photography and videography inside the gallery.
You have to purchase an entry ticket of INR 100 from bookmyshow.com (only method as of now) which finally costs around INR 106. Once you get the booking of desired timing, display the confirmation number in the ticket counter to get a printed ticket. You cannot reschedule the day or time slot after purchasing the ticket. To purchase the ticket online, visit BookMyShow.
P.S. Children below 3 years don't need a ticket.
Biswa Bangla Gate Timings
The Gallery remains open from 12 PM to 6 PM, every day except Monday due to scheduled maintenance. There are 3 slots, 12 PM, 4 PM, 5 PM, each slot of 45 minutes. No visitors will be allowed to stay beyond their scheduled periods.
Facilities available on Kolkata Gate
Kolkata Gate also has some basic facilities like toilets, waiting lounge, filtered & cold drinking water, and baggage area (at Ground floor). Before entering the lift you have to deposit bags along with food, tobacco items, etc. Each of the arcs has a staircase for the emergency exit which remains closed for its obvious reasons.
Parking is free for all the visitors, just in front of the ticket counter.
Biswa Bangla Gate Cafe Ekante Restaurant
Although Cafe Ekante restaurant is the only option in this gate. I must admit they look quite promising. Prices look decent but considering the fact that the view from this gallery is spectacular. To check out the complete menu, click here.
Quick Information about Cafe Ekante Restaurant
There will be no separate ticket for Restaurant. The guest will be accommodated through a first come first serve basis. However, the guest may make a reservation with 20% extra cost through Apps and Online services. But reservation of seats limited to 30% of total capacity.
You may call 84201-05555 & 84201-22200 (12 PM to 6 PM except Monday) and also 8334065345 (9 AM to 6 PM) to pre-book your seat.
One coupon will be given to each restaurant guest while going at the top and the same should be handed over to the security personnel during exit.
Minimum billing per person of Rs.500/- including of Taxes is applicable for dinner.
No toilet facility is available at the top but visitors may use the toilet near the ticket counter at ground level.
Free Wi-Fi and Selfie zone is available within the viewing gallery/restaurant at the top.
Any Corporate Body / Organization may book the viewing gallery from 7.00 AM to 11.30 AM at a price of Rs.20,000 for a maximum duration of one hour with a maximum of 50 heads. For any such type of booking, please contact Manager.
For violation of the rules or behavior considered undesirable, HIDCO reserves the right to cause any visitor to disembark and exit. No refund will be given and the penalty will be payable as per the rules above.
Rules to follow at Kolkata Gate
A few more rules to follow during your visit 
Littering or spitting is strictly prohibited.
A fine amounting to INR 500 will be imposed for each incident of littering/spitting.
Smoking or chewing of any type of Gutkha/Chewing Gum is strictly prohibited.
The entire Biswa Bangla Gate is under CCTV surveillance.
How to reach Biswa Bangla Gate
These days, transportation to Narkelbagan Rajarhat place is not a big challenge. Almost from every place in Kolkata bus service is available like S30, AC12, AC23A, S12E, S9C, S53, S14C, etc. I hope Metro service will start soon.
Nearby Places to Visit in Rajarhat, Newtown
Eco Park is undoubtedly the best-decorated park in Kolkata. It houses a lot of activities like cruising, ice skating, cycling, kayaking, zorbing, etc. It also...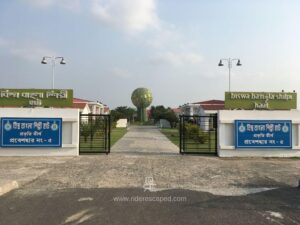 Biswa Bangla Shilpi Haat is an umbrella organization showcasing and promoting all the handloom & handicraft products of West Bengal. You can purchase handicraft items,...
Although, we are in a process to queue up the next post shortly. Till then subscribe to Rider Escaped Newsletter and connect with us on Social platforms to get future updates quicker.
Don't forget to check out our Kolkata City Tour Guide.
Certainly, if you loved the content, share this with your buddies. Also, if I missed out on anything do let me know in the comment section. I will include it in the post.
Thanks! Have a great day ahead.