Rynox Optimus M Tankbag Review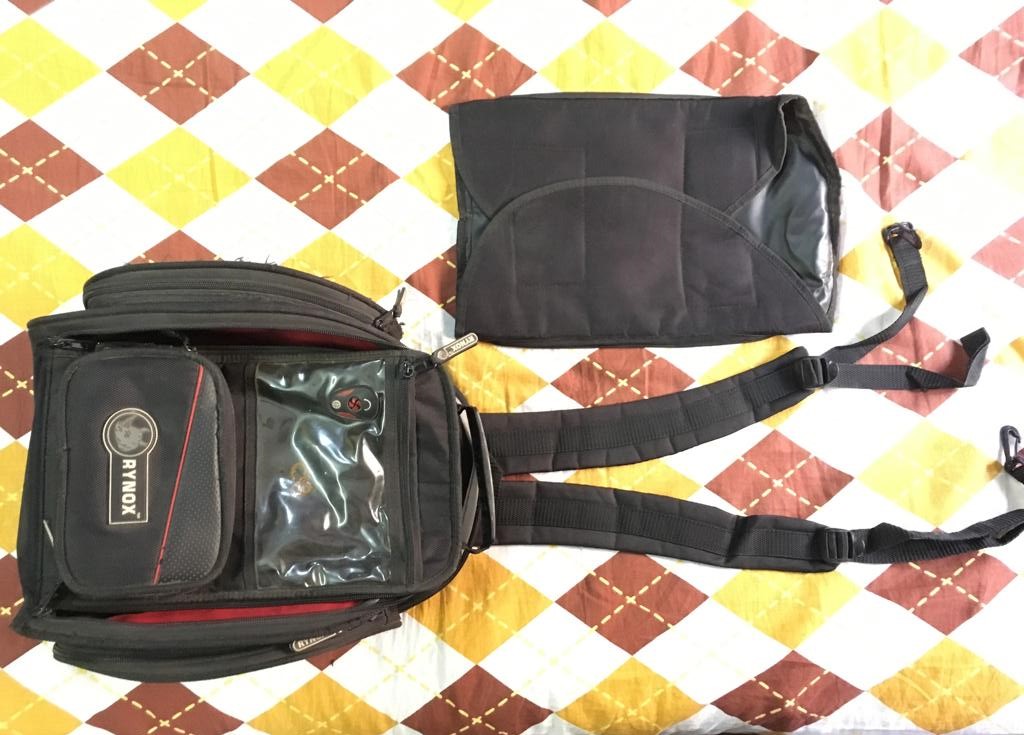 If you are a long-distance tourer on a motorcycle, you probably heard of Tankbag. They are awesome to carry your stuff on top of the fuel tank, no matter what motorcycle you have you can use this crazy item. Today we will review Rynox Optimus M V1 Tankbag. We have been using this tank bag since September 2016, so we should be in a good position to share our opinion.
Why Tankbag?
Firstly, why tank bag? Tankbag, in general, sit on your motorcycle fuel tank and occupy less space while maintaining good motorcycle balance. It gives you a good capacity too. But the most important advantage of a tank bag is to have easy access to frequently used or fragile items. Suppose, you want to take your DSLR out to capture a stunning beauty en route, it will take hardly a minute to do so, Just open the zipper of your tank bag and done. Otherhand keeping this kind of item in a saddlebag may shred some more time to you. In case you are using a soft luggage setup (saddle bag ) keeping valuables could be a nightmare during fall, who knows? Nowadays most of the tank bag comes with more 20-25 liters capacity, but I will always recommend using a tank bag for your valuables like a laptop, DSLR, wallet, action camera, motorcycle papers, etc. You may also store raincoats, pair of socks, toiletries.
Why Rynox Optimus M Tankbag?
The "M" in name resembles the magnetic version. Being a Royal Enfield Thunderbird 350 owner, I chose to purchase this model, earlier I had Scoyco magnetic Tank bag which was not so good to hold the tank properly, even few of them broke while using. I had purchased this Tankbag for INR 3450 from the local store "Gear UP" in Kolkata. The store guy literally convinced me to buy this bag but I never regret.
Key features of Rynox Optimus M Tankbag:
Powerful monopole magnet
Great build
Leather kind of finish at the bottom which minimizes the chances of getting scratch on the tank.
Large capacity
The magnetic section can be removed to use as a backpack
It came with a lot of buckles to use in case of heavy load.
Easily accessible side pockets, one transparent pocket at the top and an organizer pocket for your documents
It came with a rain cover which was big enough to accommodate the largest shape of this bag.
P.S. Sorry for the dust on the bag.
Pros:
During the Kanyakumari ride, I loaded this tank bag to its maximum capacity but it was steady even at higher speeds.
The outer fabric is very robust, withstand a lot of fall and friction.
Using this bag as a backpack was also comfortable, straps can hold all the load.
Cons:
Price is a little bit high than the budget competitors but it definitely worth every penny.
It sipped in water during heavy rain 2-3 times despite having rain covers. Although few times, I did not observe a single seepage of water in terrific rains. I would always suggest keeping a plastic at the base before loading luggage which will ensure zero wetness.
V1 version used to have semi-soft plastic handles which used to hard while fully loaded after some time but the newer version V2 seems to have fabrics for better comfort.
Verdict:
I believe at this price bracket of Rs. 3450, this bag was a great deal. Considering the experience, I will suggest anyone, to purchase the newer V2 version for INR 3550 while publishing this review. Personally, tank bags and saddlebags are not frequently changing items so getting the best product at a moderate price, will be a wise decision. Although I have highlighted a few cons above surely those are not deal-breaker for this tank bag anyway. Always read reviews from various owners to understand the pros & cons before purchasing.
Disclaimer: All the above observations and facts shared are unbiased based on my personal experiences in the last 2.5 years.
You can visit the below link know more about the Rynox Optimus M Tankbag.
Rynox Gears – Rynox Optimus M V2 Tankbag
Also, check out our Rynox Urban Riding Jacket Review here.
Click to follow our Social Media Handles to get the latest updates
Facebook | Instagram | Twitter | Pinterest | Ladakh Blog
Although, we are in a process to queue up the next post shortly until then do subscribe to Rider Escaped Newsletter to get future updates.
If you loved the content, share this with your buddies. Importantly, if I missed out on anything do let me know in the comment section, I will include in the post.