Kolkata East-West Metro Corridor – 2020 (Phase 1A – Sector V to Saltlake Stadium)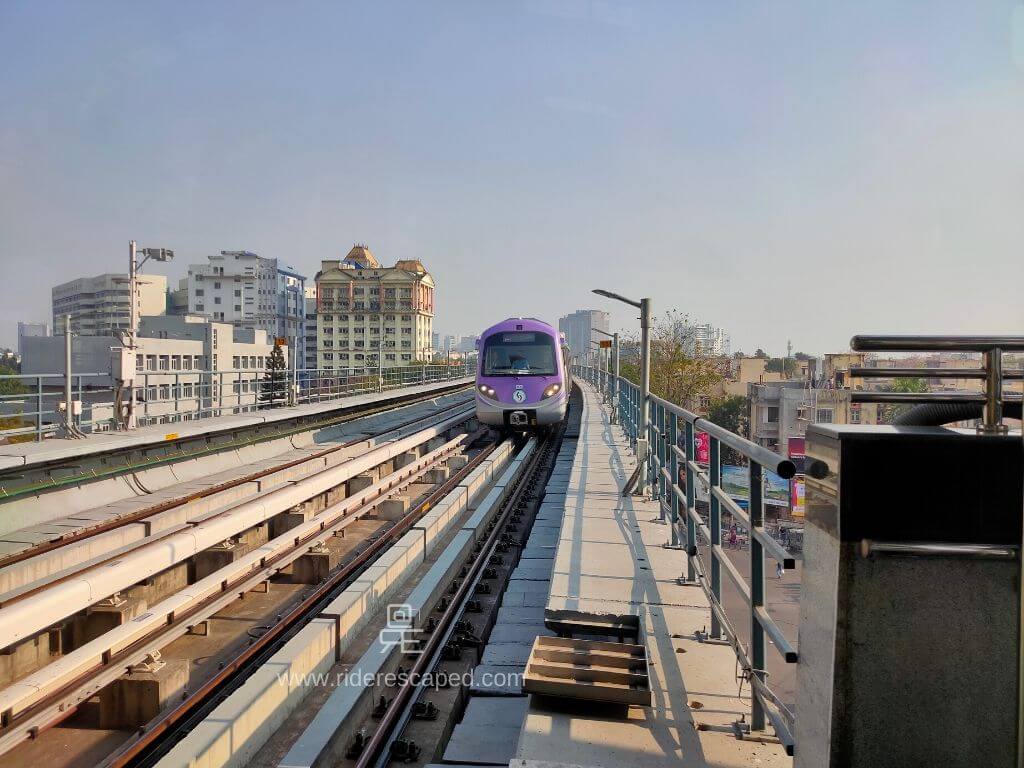 After a long wait, Kolkata people finally getting a piece of relief as the first phase (phase 1A) of East-West corridor Metro is started it's operation from today i.e. 14th February 2020. In this post, we will be discussing every detail, you must know about the Kolkata Metro East-West Metro corridor even before you take a ride, like routes, timings, fare, available facilities, etc.
Kolkata was the first city in the country to have a metro service on 24th October 1984. To date, it was extended till Garia on the southern side and Noapara on the northern side, mainly covering the North-South corridor. But now with the East-West Corridor, it is expanding further to connect many parts of the City.
The Kolkata East-West Metro was inaugurated by current Railway Minister Shri Piyush Goyal on 13th February 2020.
Ease of commuting in Metro
No doubt metro service eases everyone's life as a faster and eco-friendly commute. Generally, a Bus or Cab takes almost an hour to cross 4-5 kilometers but in Metro, it takes only 10 to 15 minutes.
Security Measures in New Metro Corridor
As of now, 5 advanced AC racks are available.
Screen doors are also installed in every station to prevent falling on lines intentionally or accidentally.
Metro rack, as well as platforms, are under CCTV surveillance
This advanced metro racks can easily operate at 80 KM/H while consuming lower energy.
Emergency telephones are available at platforms to connect with the control room immediately.
Facilities available in New Kolkata Metro Line
Lifts (max 13 people) and escalators
Public Toilet
Wheelchair
Drinking-Water
First-Aid Kit
2/4 wheeler parking but seems reserved for Metro officials only.
Certainly, existing Kolkata Metro Smart cards will continue to work, don't worry. Metro token or ticket gets a fresh look.
P.S. Kolkata Metro fare is still lowest in the country.
New Kolkata Metro Line timings
This phase 1A of Kolkata East-West Metro service will operate from 8 AM to 8 PM every day at 20 minutes interval. Also, each stop is of 20 seconds.
Current Kolkata East-West Metro Route
Currently, this section of Metro service will cover a 4.8 Kilometer stretch starting from Saltlake Sector V to Saltlake Stadium. Very soon, service will extend till Phool Bagan in phase 1B.
Currently operational stations of East-West Metro Corridor
Saltlake Sector V
Karunamoyee
Central Park
City Center
Bengal Chemical
Saltlake Stadium
List of North-South Kolkata Metro Stations
Noapara
Dum Dum
Belgachia
Shyambazar
Shovabazar
Girish Park
Mahatma Gandhi Road
Central
Chandni Chowk
Esplanade
Park Street
Maidan
Rabindra Sadan
Netaji Bhawan
Jatin Das Park
Kalighat
Rabindra Sarobar
Mahanayak Uttam Kumar (Tollygunge)
Netaji (Kudghat)
Mastarda Surya Sen (Bansdroni)
Gitanjali (Naktala)
Kavi Nazrul (Garia Bazaar)
Khudiram (Briji)
Kavi Subhash (New Garia)
Interesting Facts about Kolkata Metro
Kolkata Metro fare is the lowest in the country if not the world.
It was the first Metro Service in India, started on 24th October 1984.
Once completed, Howrah – Kolkata underwater metro tunnel will be the first of its kind in India.
Certainly, new AC Coaches are equipped with LED lights and regenerating brakes for more power-efficient operation.
Future plans of Kolkata East-West Metro
Obviously, this huge Kolkata Metro expansion project divided into many phases to ensure better and efficient scalability. Only phase 1A is functional as of now while other phases are also getting remarkable progress.
Upcoming Phase 1B – Linking with Phool Bagan Metro Station (at the trial stage)
Phase 2 – Link with Howrah Maidan via Sealdah, Esplanade, B B D Bag, Howrah.
Phase 3 – Extending the east-west metro corridor with Teghoria from Sector V via Keshtopur, Dum Dum Park, Baguihati, Raghunathpur.
Additionally, few other lines of Kolkata Metro services are in pipeline like Joka to Esplanade, Dakhineswar to Airport, Noapara to Barasat. Finally, all lines will be interconnecting with each other for better accessibility.
International Kolkata Book Fair (in Bengali: আন্তর্জাতিক কলকাতা বইমেলা) initially started in 1976 with only 34 publishers. Eventually, it started to grow exponentially. Currently, the...
As I mentioned earlier, Metro Rail services within a city like Kolkata are really very convenient and eco-friendly. Hopefully, we will be getting the Howrah-Sealdah metro link soon.
Although, we are in a process to queue up the next post shortly. Till then subscribe to Rider Escaped Newsletter and connect with us on Social platforms to get future updates quicker.
Don't forget to check out our Kolkata City Tour Guide.
Certainly, if you loved the content, share this with your buddies. Also, if I missed out on anything do let me know in the comment section. I will include it in the post.
Thanks! Have a great day ahead.
Have you experienced this new Kolkata East-West Metro service yet? If yes, do let me know how was it?