Unforgettable Sundarban Tour: 2N/3D Hilsa Festival Special
We all travel fanatic Bengalis are known as the Most Fish Loving People on Earth and if it is Hilsa then we are simply irresistible. Almost everyone knows about the Hilsha festival in Sundarban tour, hence, how can we miss a great combination of a Weekend trip with mouth-watering foods including lots of Hilsa, Mutton, Chicken, and Prawns along with adventurous jungle exploration on a boat ride and witnessing local tribal dance, all this in surprisingly shoe-string budget.

So this monsoon you have to join us in Sundarban Hilsa Festival Special 2N/3D Tour.
Before revealing the unbelievable price, let me share all other details like Places to visit, Food, Stay, Package Inclusions & Exclusions.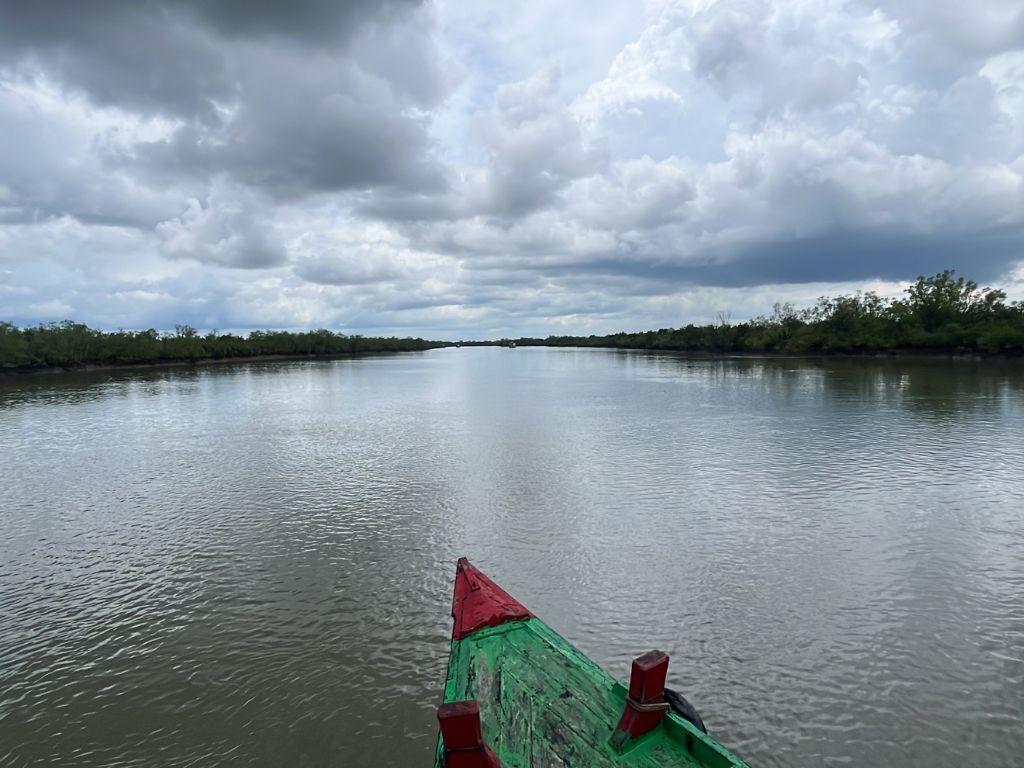 Complete 2N/3D Sundarban Tour Itinerary
First Day
Sonakhali, Gosaba (Hamilton Bungalow & Rabindranath Tagore's Bungalow), Bird Jungle, Night Stay at Hotel (Pakhiralay)
Second Day
Sajnekhali (Watch Tower), Sudhnyakhali (Watch Tower), Pirkhali, Banbibi Bharani, Chora Ghazikhali, Sundarkhali, Do Banki (Watch Tower) & Night Stay at Hotel
Third Day
Panchmukhani (Bay of Bengal Mohana), Jharkhali (Watch Tower) Parshe Mari & Return Sealdah via Canning
P.S. – Itinerary may change due to Bad Weather or Unavoidable Circumstances.
One of the most attractions of this Sundaban Tour is Food
First Day
Welcome Drinks
Kachuri Alurdam, Rasgolla (Breakfast)
Amudi fish/vegetable pakoras with tea (Snacks)
Basmati Rice, Dal with fish head, Beguni, Hilsa Puishak, Hilsha Bhapa, Begun Hilsha, Papad, Chatni (Lunch)
Fruit (Afternoon)
Chicken Pakora, Salad, Coffee (Evening Snacks)
Jeera Rice, Dal, Bhaja, Mutton Kasha, Salad, Chutney, Papad (Dinner)
Second Day
Tea & Biscuits
Alu Paratha with pickle/raita or Luchi-Sabji & Sweet (Breakfast)
Onion/Potato Pakora & Tea (Snacks)
Basmati Rice, Mug dal, Jhuro Aluvaja, Kachu Shaak with Hilsa Head, Bagda Prawn Malaikari, Hilsa Paturi, Chutney & Papad (Lunch)
Fruit (Afternoon)
Vegetable Chop, Salad & Tea (Evening Snacks)
Fried Rice, Chilli Chicken, Salad, Chutney, Papad (Dinner)
Third Day
Tea & Biscuits
Kachuri Alu kasha, Boiled Egg, Tea (Breakfast)
Pakora, Tea (Snacks)
Hilsa Biryani / Khichuri, Chicken Kasha, Salad (Lunch)
Fruit (Afternoon)
Veg Food is also available (Please mention while booking)
2N/3D Sundarban Ilish Utsav Tour Costs Rs. 4200 Per Head, for children between 5 to 8 yrs Rs. 2100
Special Discount Available for Rider Escaped YouTube Channel Members (Family Members)
Sundarban Tour Package Inclusions
Local Train Ticket from Sealdah to Canning & Vice Versa
Canning to Ferry Ghat via Auto & Vice Versa
Two Night Stay at Hotel (twin/double sharing basis non-ac room)
All Food till Day 3 Afternoon
Adventurous jungle trip
Boat ride through the river for a greater chance of spotting wildlife
Experienced tour manager
Official Jungle Tour Guide (Day 2 Only)
Required Government permission
Tribal Dance
Group Photo & Video will be Published on Our Rider Escaped YouTube Channel & Facebook Page
Sundarban Tour Package Exclusions
Personal expenses such as entrance fees, wines, mineral water, and food or drinks not listed in the menus are not covered
Any items or services not mentioned in the list of inclusions are not included
My Personal Experience on Sundarban Tour (For Reference)
For details and booking you can WhatsApp @ 9088025755 or DM @riderescaped on

Instagram

/

Facebook

or mail us @ riderescaped.yt.official@gmail.com.
Note: Exact time of departure, and meeting point will be shared after booking.
Cancellation Policy
| No. of days before commencement of Trip* | Total Deductions |
| --- | --- |
| Up to 30 days (excluding departure date) | Rs. 500 /- per Person |
| Up to 15 days (excluding departure date) | 50 % of the package cost |
| Less than 15 days | 100 % of the package cost |
Terms and Conditions
Mandatory Documents: All guests must carry their Voter ID/Aadhar Card.
Please note that hotels will not have lift facilities.
The operation of this Tour is contingent upon a minimum number of people being booked.
Under unavoidable circumstances, the tour itinerary may get altered.
In case of booking of a single person, room assignment will be done on a double/triple sharing basis with other guests.