7 facts India will be next USA in COVID-19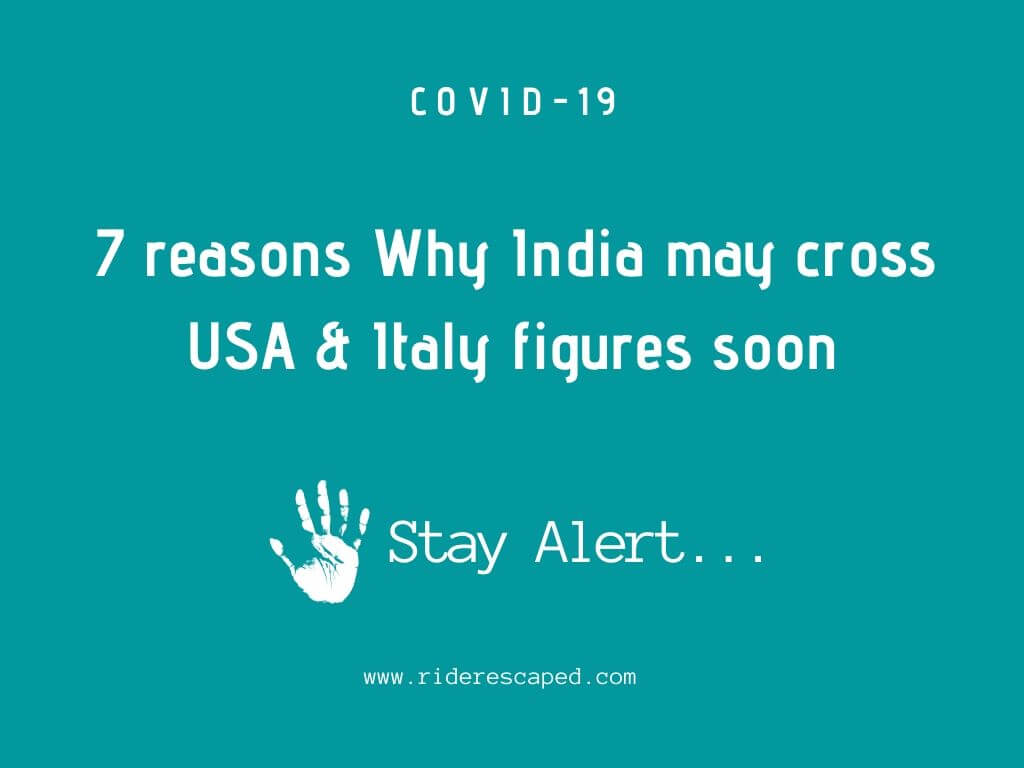 COVID-19 is a massively contagious disease all thanks to the latest coronavirus Sars-Cov-2. Almost every corner of the world is either infected or has great possibilities to become infected and India is no exception here. While this virus has a lesser mortality rate than its predecessor but can be easily spread throughout a country really fast.
In the last few weeks, we have already seen the number of infected people growing almost geometrically. With a huge population density, whole India may easily get infected in a whip. Today we are going to discuss 7 reasons why India maybe the next USA & Italy in terms of COVID-19 cases.
Before that let's see what are the current figures throughout the world.
Population Density
Population density is the biggest factor to consider while facing a contagious virus outbreak like Sars-Cov-2 (latest variant of coronavirus). While China is still the most populated country in the world with an 18.47% share (~1.44 Billion) but India is slightly behind with 17.70% share (~1.38 Billion). Although the fact is the Population density of India is significantly larger 464 than china 153 almost 203% more. More population density means the spreading capability of an infected person will also be very high.
Poor Medical & Health Infrastructure
During any pandemic or epidemic situation, medical or health facilities become the most important factor and India is far behind the average scale. Sorry to say but We lack modern equipment, technologies and advance cure. There are few institutions or medical centers doing good these days but the figure is negligible in terms of population. Even ventilators which is one of the critical equipment needed in critical scenarios are prone to be outnumbered soon.
Solution: Every Indian medical team is already in research to find out a vaccine and also following International treatments. Every medical center, hospital, nursing-homes should get updates every day which will not only boost their morale but also treatment will get better.
Lack of public awareness & Knowledge
These days every government is doing exceptional work by spreading awareness in people through advertisement, campaign, and social media. Even celebrities also contribute their best to aware people. Still, many people seem to be reluctant to follow the guideline mostly due to illiteracy and economical problems. These people are not able to understand what quarantine or lockdown means? They even can't imagine how bad this situation can be. For example, many landlords asked their tenants (who are in the direct frontline in this fight) to vacate and also people hitting policemen during the lockdown.
Solution: People need to consider this lockdown as Curfew, the government should arrange to get foods, medicines delivered to doorstep which will further cut the possibilities that someone will go outside. If needed local municipalities should publish few emergency contact numbers so that if anyone needs any essential items they can let concerned authorities know.
Economical Condition
Not only the country but per capita income is very important in this situation. Many people like daily wagers tend to resume their work in these COVID-19 lockdown situations. We can't simply blame them, they live from hand to mouth without any savings or future planning.
Solution: The government is already taking bold steps like giving INR 500 or 1000 to needy people not only that essential item is made free at local ration shops any ration holder can avail the facility based on their current eligibility.
Inadequate Test kits
As WHO (World Health organization) already stated that Testing, Tracing, Isolation, and Quarantine should be the focus to fight against this COVID-19. But the fact is, India is lacking test kits which further restricts the process. For a country of 1.38 billion, thousands or even lakhs of test-kits will not be sufficient. Hence we cannot follow mass testing rather than wait till a patient reports similar symptoms. Meanwhile, those corona (Sars-Cov-2) infected people can easily spread among hundreds if not thousands.
Solution: A huge quantity of Test kits and ventilators must be available to every state. Mass testing seems to be the only proper solution to fight against COVID-19.
Medical staff are getting infected
Not only normal people but more than 50 army medical officers, nurses, many doctors are already infected and the number is increasing every day. They obviously followed the guidelines from WHO and ICMR during their duties but the fact they lack personal protection equipment (PPE) and sometimes the symptoms of an infected person are so mild that they can't even be identified.
Solution: Enough Personal Protection Equipment (PPE) should be available to protect every frontline medical staff.
Lacking proper planning
We understand that the situation is rapidly changing but full proof planning is what we need following by proper execution. For instance, many small shopkeepers (except essential commodities) are keeping their shop open by lowering shutters to half. People are roaming with a bag to falsely show policemen they are out for vegetables, medicines or other important items. Some are gossiping in tea stalls, local garages or just outside of their house. Until the government announces a full lockdown in other words true curfew (Section 144) people will misuse these loopholes.
Solution: Only if the government arranges a delivery system, a countrywide arrest or fine on sight must be implemented additionally existing lockdown must be extended.
Conclusion
Considering the current scenario I don't really think the government should withdraw the lockdown or provide any kind of relaxation. Instead, they should impose more restrictions.
Below is a comparison chart between USA, Italy, and India demonstrating how the percentage of cases growing week by week.
Anyways, every news channel, social media are continuously sharing information please pay attention to authentic news only. Although, there are chances of getting fake news viral but use your sense and act accordingly.
Be safe, Be alert! Don't let this virus infect you or your family.
Follow Us
Click to follow our Social Media Handles to get the latest updates
We will post an update on current COVID-19 really soon, considering the fact that news is constantly updating. Till then please subscribe to Rider Escaped Newsletter to get future updates.
You may also want to check out our Kolkata City Guide.
Sources
If you want to add any useful information, comment down below or mail us at info@riderescaped.com.
Lastly, spread out the correct information & awareness to all friends, family, and everyone. Let us fight together. We will try to update the info on a regular basis, so you may like to subscribe to our push notification also.